GERD Surgery
GERD can be managed initially with the change of lifestyle and diets. But if you do not see any changes in the symptoms of GERD even after taking medicine and making changes in lifestyle, you are more likely to have a complication which may turn into a serious problem.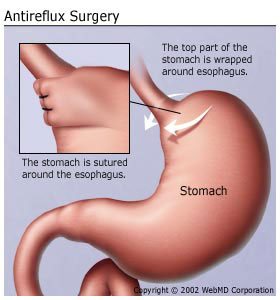 Fundoplication
This is the most common and widely used surgery to treat the GERD. It also leads to long-term reflux control. An expert surgeon will perform fundoplication using a laparoscope, thin tube with a tiny video camera. In this process, a surgeon sews the top of the stomach around your esophagus to add pressure to the lower end of the esophagus and reduce reflux. Benefits of Fundoplication surgery:-
Fastest Recovery.
Return to normal activity within 1-2 days.
Early discharge from the hospital within 1-2 day.
Less pain.

No repeated doctor visits.
Eating, Diet, & Nutrition
GER or GERD patients are always advised to relieve the symptoms through changing lifestyle and taking healthy diets. So consult the doctor about your eating habits, otherwise, symptoms may get worse.
What should be Avoided in case of GER & GERD:-
Fatty Foods
Chocolate
Coffee
Peppermint
Greasy or spicy foods
Tomatoes & tomato products

Alcohol drinks
What Should be Taken in case of GER & GERD:-
Eating healthy & balanced amounts of food
Taking small & frequent meals instead of large meals

Obese people are advised to lose weight through proper diet chart.
Prevention is better than cure so once you feel the symptoms, try controlling it through proper diet and medication. Surgery will be the option if your symptoms don't improve or get worse. Consulting a GERD Surgeon will offer relevant guidance and treatments.
GERD/ Gastroesophageal Reflux Disease Treatment/ Surgery in Gurgaon
GERD Surgery
at
Dr.Vaibhav Kapoor
Rated

4.8

/5 based on

379

customer reviews