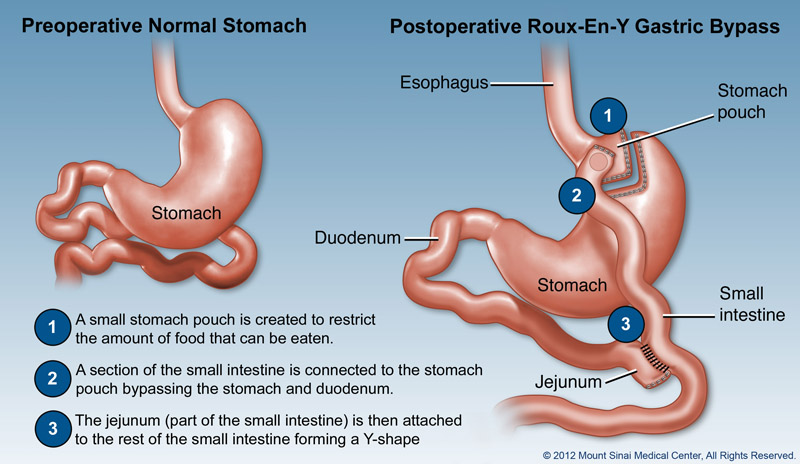 What is Gastric Bypass
Gastric Bypass is a surgical process in which Surgeon will create a small pouch at the top of the stomach which will receive food only at the limited amount which your intestine can comfortably eat & consume at one time. The small intestine is cut with a short distance below the main stomach and is connected to the small pouch. The main stomach will still connect with the small intestine as small intestine will receive digestive juices from the main stomach. Small pouch will directly send the food to the small intestine. Food now bypasses a portion of small intestine, fewer nutrients & calories are absorbed.
Benefits or Effects of Gastric Bypass:-
Rarely people prefer the Gastric Bypass but it has multiple advantages & Effects at the same time which are:
Helps to Lose Weight- People will be able to lose 70% of their excess weight within initial 18 months of the surgery

Limited food will be grasped according to pouch size . Small food intake will keep the digestive system proper

You will get sick eating high sugar or carbs

you will absorb fewer calories from food via the bypassed intestine

Type 2 diabetes will improve with this surgery

High blood pressure and high cholesterol medication will be brought under control

It will help to adjust hormones, increasing testosterone and improving metabolism

Powerful technique of weight loss as per the recent studies as 90% of patients will maintain at least 50% of excess weight loss after surgery

Combination of limited food intake in short intervals with no medication will ease the physical activity. Exercising with a healthy diet will maintain the balance in the body and will protect from the excess weight.
Obese people may undergo for Gastric Bypass surgery to lose weight and to live the healthy life.
Best Gastric Bypass Surgery/ Surgeon Gurgaon
Gastric Bypass
at
Dr.Vaibhav Kapoor
Rated

4.8

/5 based on

385

customer reviews