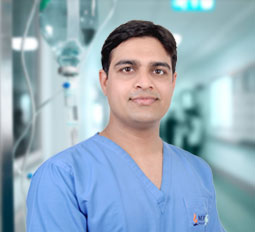 Dr. Vaibhav Kapoor
Consultant, Laparoscopic and Laser Surgeon,
M.B.B.S., M.S. (Surgery)
FIAGES,
Trained in Laser Proctology and varicose vein
Laparoscopic & Laser Surgeon in Gurgaon
Dr. Vaibhav Kapoor is a Consultant General, Laparoscopic and Laser Surgeon practicing in Gurgaon and has 8 years of experience in his field. He has undergone a certified training in Laparoscopic Surgery. He has to his credit certified training in laser proctology and Varicose veins Surgery. He has ensured that the most advanced treatment technique from all our the world is made available to all fellow Indians. Has presented many papers at various state and national level conferences.
As William Osler said: " The good physician treats the disease; the great physician treats the patient who has the disease." With This Belief, Dr. Vaibhav Kapoor yearns to provide the holistic approach to all your disease.
Beyond being the skilled surgeon lies a dedicated and loving husband. The first impression that one carries when meeting Dr. Vaibhav Kapoor is of his humble and well-spoken demeanor. Adored by his patients and admired by his colleagues,He was presented with an award of MOST LOVED DOCTOR at Max Hospital Gurgaon. He stands true to the image of doctor we have in our head.